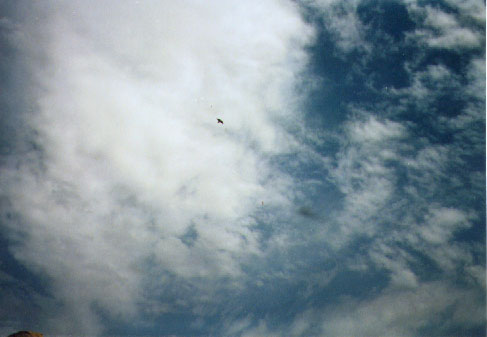 Weaving the Light
Ravenstail*
I have this medicine bag,
something warm and intimate,
made of thigh-spun wool
without even a spindle whorl,
just hands and flesh:
the body's tool.

The sheep gather close,
a herd flowing
over grass and rocks,
their split hooves finding
footholds. Like a carpet
their fleece
trails to the ground.
The women sit,
turning the wool on their thighs,
soft and white. It moves
through their hands, growing.
The women spin warp
like the sun, and a weft
black as the feathers of Raven.
They are spinning the light.




Raven, Crater Lake, Oregon (Photograph ©1998 by Ari Halberstadt).
*Ravenstail medicine bag, a 200-year-old twining technique of the Northwest Coast Native Americans. Originally used for ceremonial robes. Woven by Cynthia Hosick, Washington State, of thigh-spun merino wool decorated with beaver fur.
---
"Spider Woman instructed the Navajo women how to weave on a loom which Spider Man told them how to make. The crosspoles were made of sky and earth cords, the warp sticks of sun rays, the healds of rock crystal and sheet lightning. The batten was a sun halo, white shell made the comb. There were four spindles: one a stick of zigzag lightning with a whorl of cannel coal; one a stick of flash lightning with a whorl of turquoise; a third had a stick of sheet lightning with a whorl of abalone; a rain streamer formed the stick of the fourth spindle, and its whorl was white shell."
--Epigraph to Spider Woman: A Story of Navajo Weavers and Chanters, by Gladys A. Reichard, first published 1934, republished by Rio Grande Press, Inc., Glorieta, NM, 1968.
Spider Woman

The women sit in quiet and shade
carding out the seeds and the burrs
with sharp combs.

They pull the curled strands,
straightening white and rust, brown and grey,
twirling the long black hair.

Out of themselves they spin
the wool from the whorls of their hands
and beat down the rows.

Out of their bodies
they lead a thread
so that nothing is closed.

Sometimes they laugh, and are glad,
while around them their breath
to the wind of the striped rocks goes.




Loom model and weavings from the exhibition, "Woven by the Grandmothers," an exhibition of nineteenth-century Navajo textiles, at the Smithsonian Museum of the American Indian, New York City, 1997.
Spider Woman rock, Tse'yi' (on right).
---
Poems fromWeaving the Light © 1997 Carol Snyder Halberstadt. All rights reserved.
Photographs © 1997 Carol Snyder Halberstadt. All rights reserved.
Go to Weaving the Light, page 2.
---
Return to Wings to Fly With Publishing introduction.



Return to Migrations home page.

Go to Sea Mammals page.

Go to Listening to the Stone page.


Write to: Migrations, P.O. Box 543, Boston, MA 02258
or email to: carol@migrations.com to place an order, request photos, or for more information.

Copyright © 1997 Carol Snyder Halberstadt, Migrations. All rights reserved.