Elana Creations
Elana Creations is an enterprise by Elana Halberstadt, my daughter. She designs and decorates baby clothes, as well as t-shirts, hats, and shoes for infants, children, and adults. All designs are handpainted in nontoxic, washable colors.

She also does calligraphy, greeting cards, invitations, place cards, and notecards.

Elana Creations will also take special and custom orders, and create personalized designs.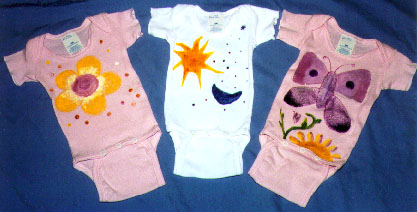 Three one-sies for infants: flower, sun and moon, and butterfly.

---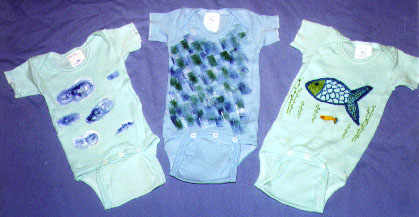 Three one-sies for infants: clouds, blue-and-green, and fish.

---

Infant hats and shoes.

---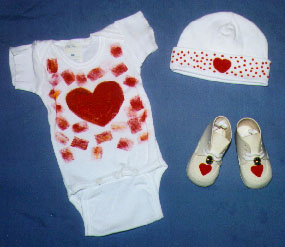 Heart design one-sie, hat, and shoes.

---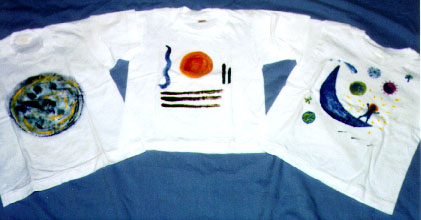 Three t-shirts.

---

Three undershirts.

---

Two t-shirts.

---
Return to Migrations home page.

Write to: Migrations, P.O. Box 543, Boston, MA 02258
or email to: carol@migrations.com to place an order, request photos, or for more information.

Copyright © 1996 Carol Snyder Halberstadt, Migrations. All rights reserved. All Elana Creations copyright © 1996 by Elana Halberstadt. All rig hts reserved.